2001 Toyota Tacoma TRD 4X4 Extra Cab
2001 Toyota Tacoma TRD 4X4 Extra Cab For Sale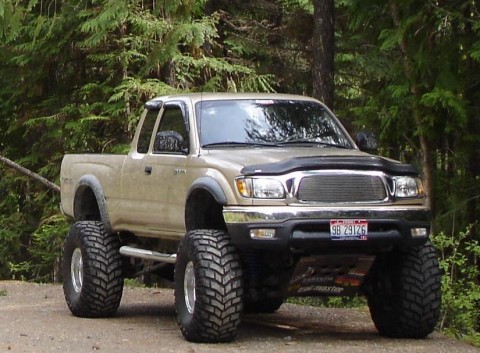 Brandon has a cool lifted Tacoma on 36 inch tires. He takes it wheeling in lots of mud and to some fun mountain trails and tracks.
The Truck
The Toyota Tacoma has been around since 1995.  It is manufactured by the Toyota Motor Corporation and is one of their versions of a compact pickup truck.  There are already two generations of this truck.  The first generation was the models made from 1995 to 2004 while the second generation is from 2005 onwards. The name Tacome comes from the city Tacoma in Washington, USA.  The Tacoma debuted in the USA in 1995 in replacement for the Toyota Hilux.  The big difference between the Hilux and the Toyota Tacoma was that the manufacturers focused more on improving the handling, ride quality, safety and comfort over towing capacity and ruggedness.  This evolution opened doors to the US and Canadian market who used the truck mainly for personal use and less on agricultural, off road and business ventures.
Remodeling
The Toyota Tacoma underwent two major cosmetic facelifts to make it look cooler.  One took place in 1998 and the other was when they produced the 2001 model. It was mainly on new headlights and car grilles that made the difference during these cosmetic changes. In addition, they also came up with an extended cab version which opened with two doors but came with a 6 foot bed which welcomed more space for passengers and cargo alike.
Interesting Facts
Did you know that Toyota Tacomas were used by the American Special Forces when they launched the Operation Iraqi freedom and the Operation Enduring Freedom Missions? They were mainly Double Cab versions with TRD and SR5 packages.  This goes to show that this truck is really a reliable and versatile truck no matter how compact it is.
All in all, the Toyota Tacoma TRD 4x4 Extra Cab is a very reliable truck for you and your family.  It can serve whatever needs you have when you require a good right to go about your everyday routine.  This vehicle has everything and is top class in performance and style.  You can never go wrong with this truck with its versatility and performance.
FEATURES
The Engines
Three engines were produced for the Toyota Tacoma and all of them were welcomed by the users of the truck.  The engine types are:
2.4 L 2RZ-FE I4 142 hp (106 kW)
2.7 L 3RZ-FE I4 150 hp (112 kW)
3.4 L 5VZ-FE V6 190 hp (142 kW)
Transmission
There are two options to consider for transmission for the Toyota Tacoma it can either be the following:
4-speed automatic
5-speed manual
Wheelbase
For the 2001 to 2004 models, the regular cab version measured 104.3 inches while the Extra Cabs went with 121.9 inches.
Size
The 1998 - 2002 models measured 202, 3 inches in length, 66.5 inches in width and amounted to 66.3-67.7 inches in height.
Safety Features
The Toyota Tacoma Series comes with standard antilock brakes, electronic breakforce distribution and brake assist.  There are also passenger side airbags and the driver side airbags to top it all.
Lifted Toyota Tacoma On eBay
Used 4x4 Trucks On eBay